Home | Photographs | Videos | Ashes | Memorial Book | Obituary | Letter | Updates | Contact
Photographs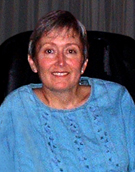 Please enjoy these pictures of Sandra. If you have any that you would like displayed here, please contact me and we'll arrange it.

My sincere thanks to my friend Arthur in the UK who did such a great job of turning a technically-poor (because of bad exposure by the camera) digital photograph into the picture you see of a radiant and smiling Sandra on the right. This picture was taken on Christmas day in 2002. Unfortunately there were distractions in the background and Sandra was in a shadow, but Arthur used his skills in the manipulation of digital images and turned the picture into the last truly great picture taken of Sandra. Thanks to Anna for taking the original photograph.

Please click on the thumbnails to bring up a full-size copy of each picture. To save a copy of a picture to your own computer, right-click the picture and select "Save Image As...", "Save Picture As...", or something similar from the pop-up menu. After looking at the picture, click your browser's back button to return to this page.


---
Original Collection
---
With Family
---
Hawai'i, May 1999
---
Some More of Sandra
---
A Couple More with Me
---
Memorial Service
Home | Photographs | Videos | Ashes | Memorial Book | Obituary | Letter | Updates | Contact